Today "ALLIANZ" is the name synonymous to Corrugated type Distribution Transformers in the World market. Over 10,000 Transformers are in Operation Worldwide for more than Twelve years. This itself is self-explanatory for its Quality which is no second to any other Brands. The Theme of our design and manufacturing is TOTAL RELIABILITY.
Corrugated Distribution Transformers features is :
Compact in size
Saving in steel
Saving in oil
Saving in freight
Saving in space
Elegant appearance
Hermitically sealed construction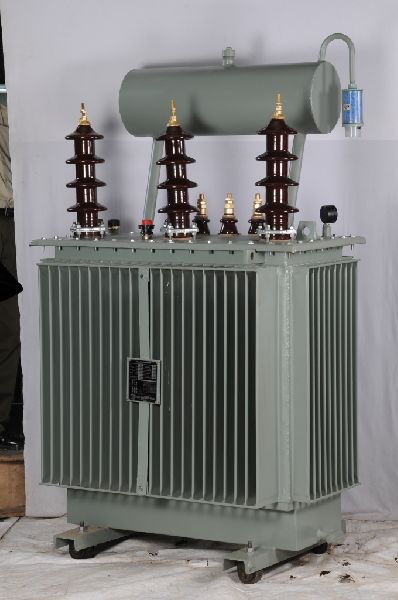 Corrugated Distribution Transformers features is :
The DISTRIBUTION TRANSFORMERS core is made out of high quality low loss CRGO silicone steel laminations and is carefully built so as to attain minimum Losses, Magnetizing current, Vibration & Adequate Mechanical Strength.
The need based perfect Design makes the windings selective and are so perfected that all the necessary parameters are met with. The windings are of ELECTROLYTIC GRADE COPPER of rectangular or round sections. They are covered with several layers of age resisting insulation paper of high dielectric strength or THICK enamel coatings as the case may be. The windings are done with utmost care for proper insulation and mechanical strength to withstand Short - circuits. Radial and axial ducts are provided for effective cooling.
All insulating materials are selected and processed according to the requirement of BASIC INSULATION LEVEL & INSULATION GRADIENT. Kraft paper used for Conductor insulation, inter-layer insulation & inter-winding are of high dielectric strength. After final assembling of transformer, it is properly dried in oven till maximum insulation strength is achieved.
OFF - CIRCUIT Tap Switch used may be Linear or Rotary type. We also supply transformers with ON LOAD TAP CHANGER.
The Transformer Oil used in this Transformer is Of E H V Grade Oil conforming to International Standards.
The Design of Corrugated Distribution Transformers tank is so perfected, that necessitates all features to Zero Failure. Transformer tanks are subjected to special painting process for long lasting.
All the Distribution Transformers are passed through rigorous ROUTINE TESTS in each of the manufacturing stages. Due care is taken in selecting the raw materials as well as its processing. We are having the most modern Testing Equipments to carryout all ROUTINE TESTS as per INTERNATIONAL STANDARDS. All Routine Tests as per IEC-60076 / IS-2026 are conducted on each transformer before dispatch.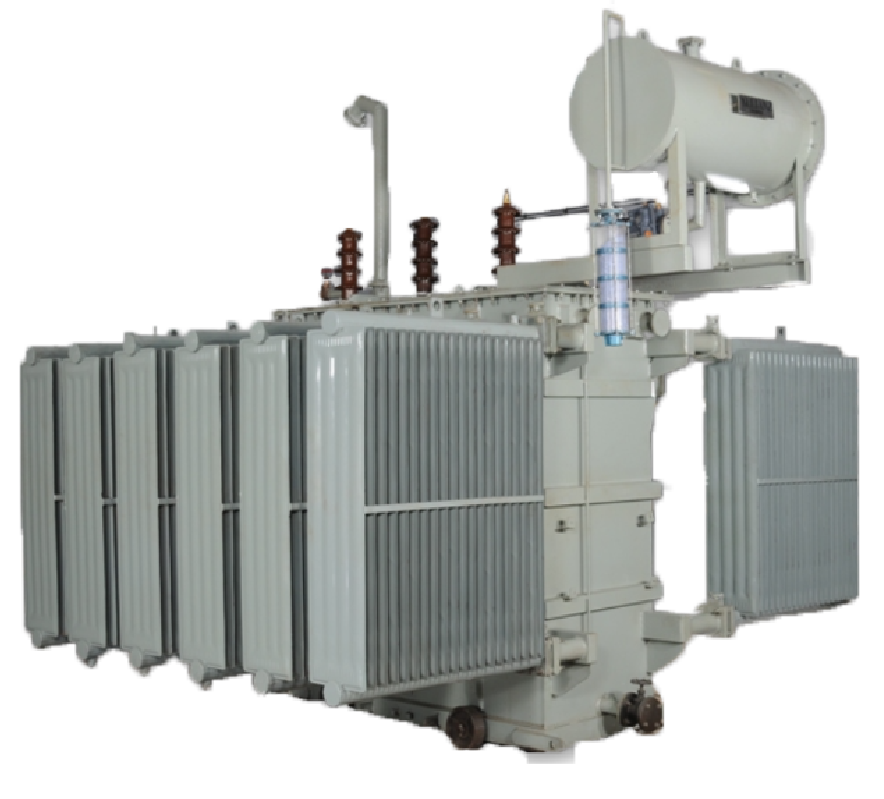 "Distribution Transformers" mentioned here are of oil immersed type having the following construction. Some of the unique features are as given below.
Distribution Transformers Core
It is very important to have the lowest possible Iron loss to manufacture a "Low Loss" Distribution Transformers. Allianz manufactures all the transformers with high grade CRGO materials with interleaved construction and mitred joints by yielding very low Iron loss and magnetising current due to uniform flux distribution. Our specialised clamping arrangements reduces the vibration and noise of the transformer while in operation.
Distribution Transformers Windings
A very good transformer can be made only with a very good winding design and construction. Allianz pioneers in the winding design with use of proper cross section of high grade electrolytic copper with multi layer age resistant higher dielectric insulation paper or good enamel coating. The High Voltage side windings are designed to provide proper insulation and mechanical strength with utmost care to avoid short circuit in in any situation. Similarly the Low Voltage side windings are designed in way to have sufficient mechanical strength to sustain internal and external Mechanical stresses. Proper Cooling ducts are provided between layers for better cooling of the windings. Proper drying of the entire winding assembly is done in Ovens before tanking of the transformers.
Distribution Transformers Insulation
Our zero failure record speaks volumes about our selection of insulation materials and proper drying procedures that we adopt in manufacturing. With the use of speciality wood for the levelling blocks and rings, the use of very high insulation strength mineral oils, rendering utmost care while fabricating Tanks,terminating the terminals, we have been able to deliver trouble free transformers for more than two decades.
Our Distribution Transformers Range
Power & Distribution Transformers : 25 kVA to 15,000kVA
For indoor /outdoor application : upto 66kV class